Published: 17-06-2016
Body Blasting Workout by L.A's Hottest Trainer Christine Bullock! (Posted on 20 May 2014)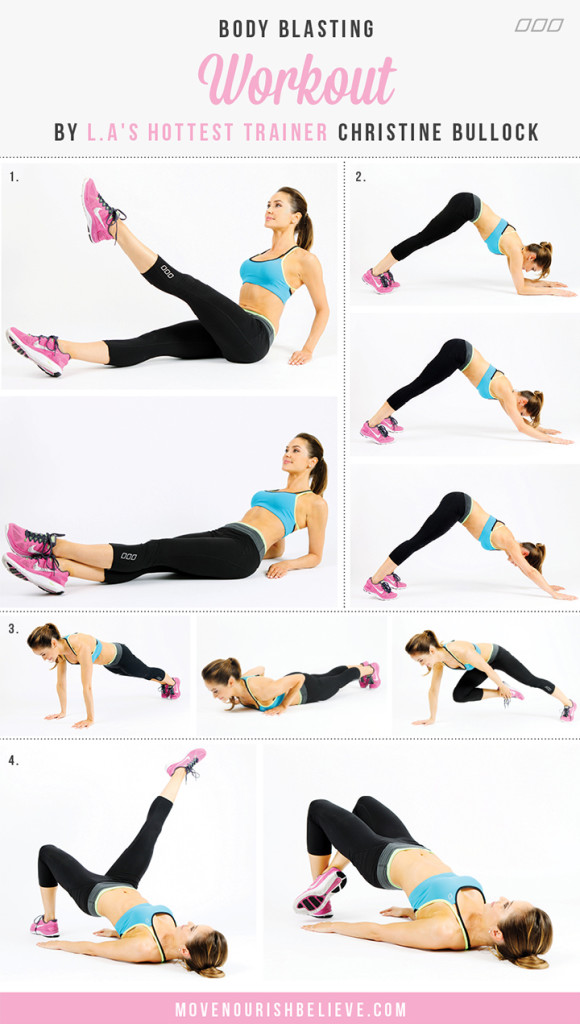 Do you want to get up to date with how Hollywood's A list are getting tight and toned? In the current issue of the Active Living magazine we feature one of Hollywood's hottest trainers, Christine Bullock as she takes us through a complete body blasting workout. If you're in the mood to work your core, and tone up that body of yours, grab yourself an exercise mat and follow this guide to work your entire body! Complete the circuit for 3 rounds, LETS GO!
Two Piece:
Start seated with a single leg elevated, your chest puffed out, and your hands on the floor just behind your hips. Lean back, slowly bending your elbows to the floor. Focus on tightening your abs as you recline back. Complete 15 reps for each leg.
Dolphin Press:
Begin in the elbow plank position with body parallel to the floor supported by your toes and arms. Walk your feet in toward your chest until you make an upside down V shape. Inch back out in the opposite direction returning to the starting pose. This entire motion counts as one rep. Complete for 10.
Push Up Stunner:
Begin in the plank position, supported on your toes with your feet together and arms extended, hands flat on the floor shoulder width apart. Lower to the floor, focusing on maintaining a straight back. Lightly touch with your stomach. Lift back up, drawing forward one knee and tapping the heel with the opposite hand. Alternate this motion between legs. That's one. Do 10!
Bridge Kick Tuck:
Begin with shoulders flat to the floor, pelvis elevated and slightly pressed upward, and one foot tucked behind the opposite calf. Kick the tucked foot, gliding it outward until the leg is fully extended. Bring it back in and repeat!
Have fun, and remember look good and feel more good; amazing trendy & fashionable Lorna Jane items for the Benelux are available at STELLASTYLE.com.
Leave a comment